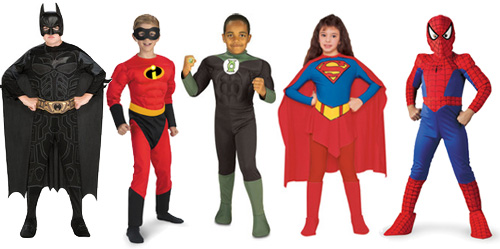 It's that time of the year where costumes and competition are in full effect and we want you all to be a part of the fun! We are hosting the 1st Clarendon Fitness Super Hero Squad Challenge on October 31, 2015 at 10AM. This will include two teams of 6, competing against each other to win a title of CF Superhero Squad Champions!
The challenge will include 3 different types of workouts.
Challenge 1 is a metabolic workout which may include burpees, kettlebell swings, wall balls, etc.
Challenge 2 is a workout focused on strength, and may include deadlifts, lunges, overhead presses, etc.
Challenge 3 is a surprise but will sure give you a tough workout!
Your favorite trainers will be your squad leaders and referees. They will be dressed as their favorite superheroes. You will receive bonus points for either wearing your favorite superheroes' tee shirt or in full custom as well as points for each competition.
Remember, this is a team workout therefore you must be willing to workout with others to reach success! A lot of people have expressed interest in the challenge but we only have room for two teams of 6. That's 12 total people. Two of those twelve spots are spoken for and after this email there may not be any spaces left.
The prizes are pretty cool. Brunch for the winning squad at one of our favorite local establishments. The new teeshirt designs and other cool swag. And you get a discounted month of our award winning training.
All you need to do is to pay your registration fee. Go in your closet or go online and pick out your favorite superhero shirt or costume to wear during the competition. And show up on Saturday morning.
For participants who are current clients, the cost is $20. Click here.
If you are not a current client, the cost is $40. Click here.
Official registration ends on Tuesday, 10/27/2015 at 12PM. If you have further questions or challenges registering please e-mail training@clarendonfitness.com.
Remember there are only 12 total spots.
If you're not around this weekend, forward this to a friend. It will be a lot of fun. If you don't want to participate, then you are welcome to come by and watch.
With your health (and fun) in mind,
Pascal
P.S. The first two superheroes are already registered. Get in the game.