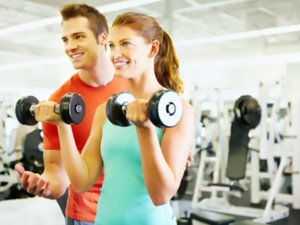 Personal Training
The caliber of training at Clarendon Fitness is similar to the training at a professional athletic training center. When it comes to understanding how the human body moves and the scientific approach to help our clients achieve their most, Clarendon Fitness will just provide a similar experience.
Every client starts with an assessment. This is a screening process that allow us to pin point the muscular and physical imbalances a person may have. Then, we apply corrective exercise techniques to activate and/or improve a client's neurological and physical system for better performance whether a stay at home mom looking to keep up with your kids or endurance athlete looking to break through your personal records.
After this initial process, we take our clients through the first levels of strength training. When it comes to strength training, we've got you covered. The detail and attention our coaches apply to your training programs are the key for client's success, whether training one-on-one or in our small group training programs.
Our experience, as competitors and strength training coaches, helps us apply and execute the principles of strength training to your individual sessions. Using critical elements of strength training, such as tempo and tension, will help you increase your muscle building hormones (IGF-1), help your body's ability to manage insulin, and rapidly lose fat.
---
Before

After

"I can't believe I enjoy going to the gym 3 days a week..."

I would like to thank the entire Clarendon Fitness staff for helping me to achieve my fitness goals. I've managed to improve my overall health, lose weight, tone up, and have more energy throughout my day. Words cannot begin to explain how fortunate I was to find such a professional and outstanding service.

The trainers are absolutely dedicated and 'engaged' with their clients; it is readily apparent how seriously they take fitness. The front desk staff is exceptional and is always more than capable of handling my needs so I never have to worry about anything other than giving 110% during my training sessions.

Needless to say, when I'm working out at Clarendon Fitness, I feel like im getting every penny's worth out of my workouts. I can't believe I enjoy going to the gym 3 days a week, and even better, I enjoy the results that I've seen thus far. A healthy diet and exercise are truly the only way to get these results; luckily I have the whole staff at Clarendon Fitness to not only hold me accountable, but to also act as a vast informational source.

I can honestly say that everyone at Clarendon Fitness is genuinely interested in my health, success, and results.

Caitlin U.

Miss Virginia 2010

Before

After

"The results have been nothing short of astonishing"

At the beginning of the summer, I was very, very seriously overweight, and had been so for years. All of the clothes I had worn 4 years ago were too small, and the clothes I had bought to replace those were getting too small. I had to go and buy new suits, because the ones I had couldn't even come close to being buttoned up. I looked terrible, and I was constantly getting weird annoying pains in my legs and feet. My blood sugars were at a pre-diabetic level, and I was well on my way towards contracting Type II diabetes. It seemed as though the high blood pressure medication I was taking was going to be a permanent fixture in my life. I couldn't make myself follow any consistent exercise program, and even playing 5 minutes of pick-up basketball would exhaust me.

Then I met with Pascal and Fareed at Clarendon Fitness. I had known Pascal for a while, and he had urged me to come in and meet with him, but I resisted for a long time. There was always some excuse ("I don't have time this week" or "Once I finish with my taxes," or something else). But he kept urging me to come in, so I did. We talked about some changes to my diet, and beginning a regular exercise program. Once again, the time factor reared its ugly head as an excuse not to start, but the schedule at CF had so many options I was able to find a morning class which allowed me to get enough sleep, exercise, and get my kids to school on time.

I was nervous when I came to my first class at 7:00 am on a Monday morning. I was worried that I wouldn't be able to do the workout. Well, it turned out that my worry was pretty well founded. It wasn't that my legs were in pain, exactly. I simply couldn't make them do the movements. But I made myself ignore what everyone else was doing, and concentrated on myself. I came back on Wednesday, and again on Friday, and again the following Monday. And I have kept coming back.

What I like about the class – aside from the fact that I can make it fit into my schedule – is that it is continually challenging and different, so that it doesn't get boring. The fitness level of the people typically in the class is quite varied, ranging from people like me (trying to make up for almost 25 years of inactivity) to others who seem to me to be in pretty good shape. And yet everyone seems to be getting a great workout.

I followed the nutritional guidelines that were suggested to me, probably not quite to the letter, but I really have avoided the things I was told to avoid.

The results have been nothing short of astonishing. Since I started, less than 3 months ago, I have lost over 50 lbs. My blood pressure has dropped precipitously. My feet and lower legs have stopped hurting for no reason. Clothes that hadn't fit me for years can be worn again. I have lost 4 inches off of my waist size. The two new suits I purchased at Father's Day because my old ones were just too small are now ridiculously too large. I still want to lose another 30-40 lbs, but I believe that I can and will.

The team at Clarendon Fitness, in particular Fareed and Pascal, have changed my life. I cannot say enough good things about them. I would strongly urge anyone who wants to get healthy to come into Clarendon Fitness and let them help you to help yourself.

Whitney W.

Before

After

"I not only have phenomenal physical results..."

My experience at Clarendon fitness was truly life changing. Over the past years out of college, I have found it challenging to find an exercise routine that I could maintain which did not add to the discomfort from 4 ACL reconstructions I've sustained over the past 6 years. I have done it all – from LA boxing to Insanity- nothing changed my body and attitude toward fitness, nutrition, and overall health like CF did in a way that was sustainable and long-term.

Abdule is a top notch trainer who is attentive to goals and and pushes you to achieve your successes. My transformation is a true reflection of his passion and professionalism. Pascal's comprehensive knowledge and customized advice toward nutrition helped me maximize my efforts and re-program my metabolism to ensure longevity to positive changes in my overall health. I was also able to interact in classes taught by Kimberly and Jamel, who demonstrated consistency of the knowledge, professionalism, and determination to help all clients achieve results.

Dedication to CF's program WORKS. I have been able to maintain my fitness levels and eating healthy is no longer laborious. I not only have phenomenal physical results, but my mental health and overall lifestyle have changed for the better.

A big thanks to CF and the team!

Danila C.